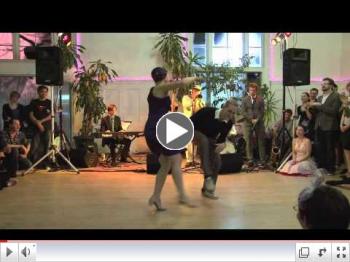 Don't be spooked! Do your registration by October 30 to get the cheap early bird prices for the Skye Humphries & Naomi Uyama weekend of Lindy Hop workshops on November 29-December 1! The classes will all be held at Lower Falls Community Center in Newton.
The weekend will also include the next monthly Uptown Swing Dance at the beautiful KI in Brookline featuring the Gordon Webster Band with Naomi on vocals. Plus there's more! A dance performance with Skye & Naomi! These two are among the most popular instructors currently on the worldwide Lindy Hop scene. With the combination of Skye, Naomi and Gordon, it will be a not-to-be-missed event. Register today. You know you want to!
If you are planning to attend, please respond on the Skye & Naomi Facebook Event page. Thanks!
Complete workshop schedule and registration.
Housing Request for Workshop Weekend
There currently is one housing request for the workshops. Joelle will be traveling from NY and needs a place to stay. It would be especially helpful if you can help with transportation as navigating the area can be tricky for out-of-towners. You can contact Joelle directly.
Also, in case there are other requests and you will be able to help, please let us know. If you can provide transportation and not housing, that may be helpful as well. It would be very much appreciated!