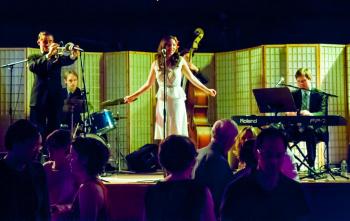 The Skye & Naomi weekend also includes Saturday night, November 30 at Uptown Swing featuring the Gordon Webster Band with Naomi on vocals plus a dance performance with Skye and Naomi.
Uptown Swing will be at KI, a gorgeous venue with an excellent huge dance floor, conveniently located near Coolidge Corner in Brookline.
This amazing weekend with the combination of Skye, Naomi and Gordon has always been a highlight of the year, which is why they'll be back for the 6th time! It is guaranteed awesomeness:-)
If you are planning to attend the dance, please respond on the Uptown Swing Facebook Event page. Thanks!