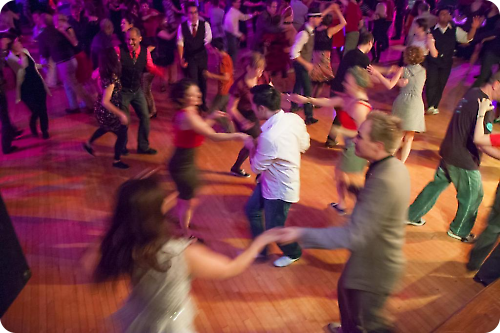 Come on out this Saturday, June 7 to Uptown Swing Dance, featuring Boston Swing Express. Led by guitarist Mike DiBari, this tight knit combo hones in on the classic guitar driven Swing of the 30's and 40's. Their sound derives from guitar stylists such as Charlie Christian, Django Reinhardt and Les Paul, while also paying tribute to Swing era greats such as Lionel Hampton and the King Cole Trio. With rave reviews, the band continues to get better with each appearance at Uptown Swing.
Please note that there will be a different start time in June. Both the Swing lesson and the band will start at 9:30pm and the dance will run until 12:30am! The time adjustment is due to restrictions at KI having to do with sundown. We're thinking that a little flexibility is worth having the use of this beautiful venue!

Beginners welcome, no partner needed
Location: KI (Congregation Kehillath Israel), 384 Harvard Street, Brookline, MA 02446; entrance on Williams Street
Band: Boston Swing Express
Date: Saturday, June 7, 2014
Time: 9:30pm-12:30am
Swing Lesson: 9:30-10:00pm
Admission: $15 ($10 with Student ID)
Uptown Swing details on website.