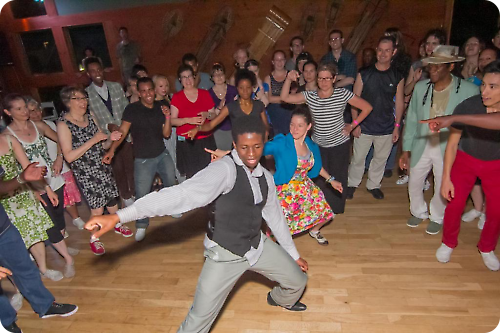 On Saturday, February 21, Uptown Swing will be hosting a special Swing & Soul Dance at KI in Brookline. The dance will feature the fabulous Racky Thomas Band and guest DJ Javier Johnson, bringing a great mix of fun get-up-and-dance music.

In addition to Uptown Swing, there will be 2 workshops on Saturday afternoon with Javier to get the Swing & Soul vibe rolling. Workshops will be held at Ruggles Baptist Church on Beacon Street in Boston, not far from the dance location.
A. 3:15-4:15pm Diggin' on James Brown
Not only a great bandleader, but a superb dancer, James Brown is a huge inspiration. His funky songs have interesting rhythms and influences which go beyond the standard Swing/Blues formula. We'll learn to dance like James and really get down.
B. 4:30-5:30pm Awesome Sauce
(noun): The thing which transforms average into awesome. This class will show you how to take simple dance movement ingredients and make them into an awesome partnered dance.
Workshop details and registration.