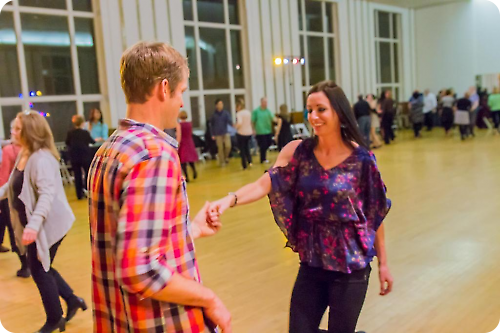 Have you been telling yourself that you want to finally take a dance class? Have you been away for awhile and feeling you want to get back out? Now is the perfect time! A new year, a new start. Our first 6 week session of 2016 begins on Sunday, January 10 in Newton Lower Falls and Monday, January 11 in Boston. Classes are relaxed, good exercise and a fun opportunity to meet people.
Beginner Swing/Intro to Lindy Hop Level 1
The place to start for those brand new to Swing dancing! Also ideal if you have some experience and are working on developing a solid foundation of dance skills while building a repertoire of fun moves. 6 count basics plus an intro to 8 count will be covered along with a different selection of steps each session. The 7 different sessions at this level are designed to provide a good base for social dancing. Okay to start with any session. Students are recommended to stay at this level long enough to feel very comfortable with what's taught before moving to Level 2. Discount after 2 full sessions. No experience required.
Lindy Hop Level 2
This level is for refining the core moves of Lindy Hop and in each session there will be some time devoted to the finer points as well as adding variations to the basics. Emphasis is on technique, partner connection, musicality and building skills. The 8 different sessions continually evolve over time with each one focusing on a different theme (such as stretch, flow and rhythm). Sessions can be taken in any order. Each one has a mix of the classic (including Charleston) along with newer variations, all with a touch of style and flash! Discount after 2 full sessions. Some previous Lindy Hop experience is required. Meets in Newton only this session.
Lindy Hop/Jazz Routine
This uptempo routine will include a mix of partner and solo dancing. The focus while learning the steps will be on rhythm and musicality. Learning choreography is fun, challenging and a great way to work on your dancing! An interest in performing is not needed to take this session. It is aimed at intermediate to advanced Lindy Hoppers. A partner is not required, however, for those interested in continuing, it would be helpful to join with a partner. Meets in both locations.

Part 2 of this class will continue in the following session. The focus will be on performance, teamwork, formation and practice. Besides haven taken Part 1, it will be by invitation and require a partner.
Singles and couples welcome. No partner necessary. Both locations are conveniently accessible by car or T with free parking available. Missed classes may be made up at the alternate location when the same class meets.