Saturday, November 26, 2022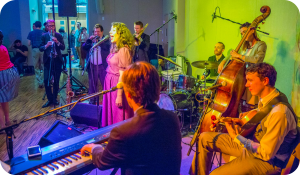 Gordon Webster has grown into one of the most sought after musicians in the Lindy Hop world today. All the tremendous praise he receives is well deserved. His music is exciting, exhilarating and joyful! Our annual dance during the Skye & Naomi weekend has come to be a major highlight of the year.
This is a not to be missed event!
Covid Policy: We are excited to be back with the Skye & Naomi Workshop Weekend, including Uptown Swing Dance with the Gordon Webster Band. It is of utmost importance to provide as safe an environment as possible as we continue to deal with Covid-19 in our lives. Partner dancing is a high risk activity. However, there are things we can do to limit the risks, with the cooperation of all who attend. It is not possible to completely guarantee that no one will be exposed or infected with Covid-19 while participating. Please evaluate your comfort with the level of risk prior to deciding to attend.
Everyone will be required to show proof of up to date vaccines, including a booster if more than 6 months since your original vaccine shots, and received no later than 10 days prior to the weekend. Only one booster is required.
Masks will be required when indoors. As there is a huge protection difference with the variety available, acceptable masks include N95, KN95, KF94, and surgical masks. Cloth or vented masks are not acceptable.
What you can do prior to attending:
Limit exposure during the 10 days prior to weekend, especially indoor activities with groups of people.
Wear a mask while traveling on a plane or public transportation.
Do not attend if you are feeling any symptoms related to Covid-19.
If you have reason to believe you have been exposed to Covid-19 in the 10 days before, take a Covid-19 rapid test prior to attending.
Please send proof of vaccination to info@hoptothebeat.com. Your name will be added to an approved list. You do not need to send if you attended Beantown Camp 2022.
Discount Admission by November 20, 2022:
$28
($24 with Student

ID

)
Full Admission after November 20, 2022:
$32
($28 with Student

ID

)