With summer in full force, some of the regular dance events are on hiatus, but outdoor events are around with opportunities for something a little different. Hop to the Beat continues through the summer months with classes in Boston and Uptown Swing dances in Brookline.
Summer Class Session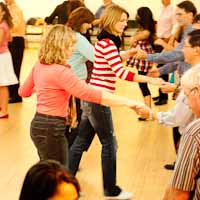 Our summer session starts this Monday, July 11 in Boston! The session meets for 6 weeks and includes Beginner Swing/Intro to Lindy Hop Level 1 and Lindy Hop Level 2. Each class is followed by a half hour practice time, a fun time to work with classmates on what you just learned:-) The location is the Ruggles Baptist Church on Beacon Street near Fenway Park (just at the Boston/Brookline border), close to several public transportation choices. Class information and registration. This will be our only session this summer. Sundays in Newton will resume in September.
Summer Dances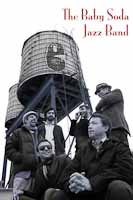 Our next monthly Uptown Swing dance is coming up on Saturday, July 16 with two special treats. First, we'll be welcoming back Baby Soda from NYC. Second, a Balboa performance with Joel Plys (from CA) and Dominique (from Montréal). That sounds like a guaranteed fun night of dancing! Uptown Swing is held at our awesome venue, Brookline Tai Chi, located on Beacon Street in Brookline, right across from the Washington Square T. It has an excellent wood floor for dancing and AC:-) The atmosphere is fun and friendly and beginners are very welcome. You do not need to come with a partner. Uptown Swing Dance information. Happy dancing,
Aurelie & Tony