Hope everyone has been enjoying these wonderful summer months. We have one more dance coming up and hope to see you there!
The Love Dogs Coming To Uptown Swing
Our next Uptown Swing dance is on Saturday, August 20 at our awesome venue, Brookline Tai Chi. This month features The Love Dogs, an Uptown Swing favorite!
BTC is conveniently located directly across from the Washington Square T stop on Beacon Street, has AC and one of Boston's best floors for dancing, plus free street parking after 8:00pm. Beginners are very welcome and there is a lesson included at the beginning of the evening to get everyone started. You do not need to have a partner to attend. The music will be excellent for Lindy Hop, Swing, Balboa and even some Blues. Bring your friends and introduce them to a fun night of dancing!
Uptown Swing Dance information.
New September Class Session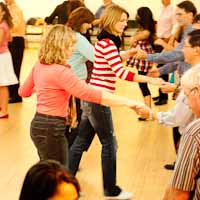 Information is now up for our new classes starting in September! Sunday nights resume on September 11 in Newton Lower Falls and Monday night classes continue on September 12 at Ruggles Church (near Fenway Park).
Here's what's up for the next 6 week session:
Beginner Swing/Intro to Lindy Hop Level 1

For those who are brand new to Swing dancing, this is the place to start! Also ideal for those with some experience who would like to brush up on skills and build a repertoire of fun moves. Six count basics will be covered along with a different selection of steps each session. There are 7 different sessions at this level designed to provide a good base for social dancing. Level 1 classes may be taken in any order. It is recommended that students stay at this level long enough to feel very comfortable with the material taught before moving to Level 2. Discount after 2 full sessions. No experience or partner required. This class meets in both Newton and Boston.

Lindy Hop Level 2

Level 2 focuses on the core moves of Lindy Hop, including a mix of 8 and 6 count basics. Emphasis is on technique, partner connection, musicality and building skills. No previous Lindy Hop experience required, although must competently social dance any style of triple-step Swing. There are 8 different sessions at this level which continually change over time and can be taken in any order. Each session includes classic Charleston and newer variations, all with a touch of flash! Discount after 2 sessions. No partner required. This class meets in both Newton and Boston.

Breaking Out of Your Basics

We'll take traditional Lindy Hop basics and alter them in structure and movement. This will help to develop your sense of connecting with your partner, add variety to your Lindy Hop and help you to learn to think in terms of improvising in your dancing. The class will be for intermediate to higher level Lindy Hoppers. No partner required. This class meets on Sundays in Newton.
Class information and registration.
Happy dancing,
Aurelie & Tony