Summer is a time that we are often off doing other things, hopefully spending lots of time outside, and catching up with those pesky tasks that seem to pile up. We are lucky that we have dancing. It's fun, good for us, and a great way to meet up with friends for a happy social activity. Why else do we see so many smiling faces on the dance floor?
Saturday Uptown Swing with The Love Dogs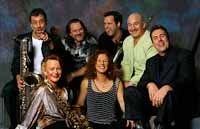 Get your dance groove on and come on out to Uptown Swing this Saturday, August 20. This month we are looking forward to another really fab night with The Love Dogs! They always keep the dance floor hopping! Uptown Swing is held at our awesome venue, Brookline Tai Chi, located on Beacon Street in Brookline, right across from the Washington Square T. It has an excellent wood floor for dancing and AC:-) The atmosphere is fun and friendly and beginners are very welcome. You do not need to come with a partner. Free street parking after 8:00pm. The music will be excellent for Lindy Hop, Swing, Balboa and even some Blues. Bring your friends and introduce them to a great night of dancing! Uptown Swing Dance Beginners welcome, no partner needed Location: Brookline Tai Chi, 1615 Beacon Street, Brookline, MA 02446 Band: The Love Dogs Date: Saturday, August 20, 2011 Time: 8:15pm-12:00am Swing Lesson: 8:15-9:00pm Admission: $15 ($10 with Student ID) Uptown Swing Dance information.
New September Class Session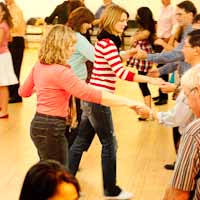 Check out our new classes starting in September! Sunday nights resume on September 11 in Newton Lower Falls and Monday night classes continue on September 12 at Ruggles Church (near Fenway Park). Class information and registration.
Mikey's Vlog
#039;s Beantown Lindy Hop Camp Vlog" src="/sites/default/files/resize/remote/ebef4374b0a6a07719d47ad33ebbf747-200x150.jpg" style="text-align: right;" align="right" border="0" hspace="5" vspace="5" width="200" height="150" />What an awesome surprise when this popped up! Mikey Pedroza put together an excellent vlog about Beantown Camp. We had to share! Thanks Mikey! Hope to see everyone out at Uptown Swing this Saturday:-) Happy dancing, Aurelie & Tony