Happy September! Yes the weather has been dismal, but we can still have hope that there are some summery days ahead. In any case, we have much else to look forward to on the dance front and it will be good to see everyone back out at the dances and classes.The dance calendar is filled with everything back in full force! We had fun starting up our new session of classes and it was great to see a nice mix of new and familiar faces:-)
Saturday Uptown Swing with the Toni Lynn Washington Band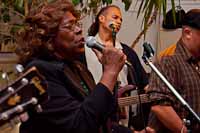 Join us this Saturday, September 17 as we kick off the new season of dances at Uptown Swing in Brookline! This month's dance features Boston's first lady of Swing, Toni Lynn Washington! Uptown Swing welcomes Lindy Hop, Swing, Balboa and Blues dancers of all levels, including beginners. If you have any friends who would like to try some Swing, bring them along. There is a lesson to start off the evening which is included.
Uptown Swing is held at our awesome venue, Brookline Tai Chi, located on Beacon Street in Brookline, right across from the Washington Square T. It has an excellent wood floor for dancing and AC:-) The atmosphere is fun and friendly and beginners are very welcome. You do not need to come with a partner. Free street parking after 8:00pm.
Beginners welcome, no partner needed
Location: Brookline Tai Chi, 1615 Beacon Street, Brookline, MA 02446
Band: Toni Lynn Washington Band
Date: Saturday, September 17, 2011
Time: 8:15pm-12:00am
Swing Lesson: 8:15-9:00pm
Admission: $15 ($10 with Student ID)
New Session Lindy Hop/Swing Classes: Join Second Week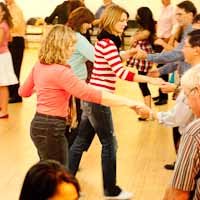 Our new 6 week session of Lindy Hop classes started last
Sunday
and
Monday
, and as always, it is still possible to
join in the 2nd week
. Classes for this session include
Beginner Swing/Intro to Lindy Hop Level 1
and
Lindy Hop Level 2
. These classes are offered both on
Sunday
evenings at the
Newton Lower Falls Community Center
and on
Monday
evenings at the
Ruggles Baptist Church
in
Boston
. The Level 1 classes could use more leaders, especially in Boston!
Also on Sunday in Newton, we have a new class for intermediate to advanced Lindy Hoppers called Breaking Out of Your Basics. Each class we'll be working with "themes" of moves or variations that have some similarity, designed to experience subtle changes in leading and following to create different things, challenging for both leaders and followers! This class will be excellent for those wanting to work on partner connection who enjoy experimenting and playing with new possibilities. Everyone had a good time at the first class and we are really looking forward to a fun session! For this class, more followers would especially add nicely!
Please let us know if you are planning on joining any of the classes or submit an on-line registration. Thanks!
Dirty Water Lindy
&

Blues Exchange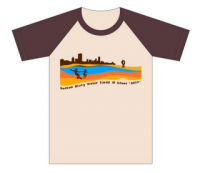 Boston Swing Central is hosting this exchange coming up the weekend of September 22-25! The weekend has a full schedule of events including dances with Baby Soda and Gordon Webster as well as other fun activities. We'll be teaching the pre-dance lesson on Saturday night and looking forward to a great time!
Check out the full schedule of dances and events and register today.
Happy dancing,
Aurelie & Tony