Schedules are now out both for our next HTTB Lindy Hop session with classes in Newton and Boston and the Skye & Naomi workshops in December. Registration is open for both.
New Class Session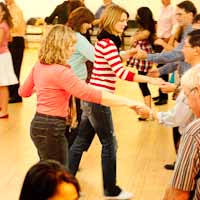 Our new class session starts
Sunday
nights on
October 23
in
Newton Lower Falls
and
Monday
nights on
October 24
at 
Ruggles Church (near Fenway Park) Boston
. There are classes for all levels, no partners required. Somehow we have already gotten to our last session for 2011!
Here's what's up for the October/November session:
Beginner Swing/Intro to Lindy Hop Level 1
For those who are brand new to Swing dancing, this is the place to start! Also ideal for those with some experience who would like to brush up on skills and build a repertoire of fun moves. Six count basics will be covered along with a different selection of steps each session. There are 7 different sessions at this level designed to provide a good base for social dancing. Level 1 classes may be taken in any order. It is recommended that students stay at this level long enough to feel very comfortable with the material taught before moving to Level 2. Discount after 2 full sessions. No experience or partner required. This class meets in both Newton and Boston.
Lindy Hop Level 2
Level 2 focuses on the core moves of Lindy Hop, including a mix of 8 and 6 count basics. Emphasis is on technique, partner connection, musicality and building skills. No previous Lindy Hop experience required, although must competently social dance any style of triple-step Swing. There are 8 different sessions at this level which continually change over time and can be taken in any order. Each session includes classic Charleston and newer variations, all with a touch of flash! Discount after 2 sessions. No partner required. This class meets in both Newton and Boston.
Rhythm Variations
Variety is the spice of life, and that also goes for dancing! In this class we'll be focusing on adding different rhythms to moves that you already know well. We'll include some variations for leaders and followers to incorporate into basics and some to lead socially. Becoming comfortable with dancing variations is not only fun, it is helpful for improvising as playing with the music becomes more natural. This class will be for intermediate to higher up Lindy Hop dancers. No partner required. This class meets on Sundays in Newton.
Complete class information and registration.
Skye
&

Naomi Lindy Hop Workshop Weekend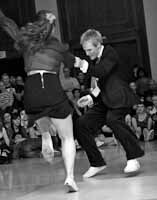 Registration is now open for the Skye Humphries and Naomi Uyama weekend of Lindy Hop workshops on December 2-4! The classes will all be held at Lower Falls Community Center in Newton. The weekend will also include our monthly Uptown Swing Dance in Brookline featuring the Gordon Webster Band with Naomi on vocals plus a dance performance with Skye and Naomi. These two are among the most popular instructors currently on the worldwide Lindy Hop scene. This weekend with the combination of Skye, Naomi and Gordon has always been a highlight of the year, which is why we are doing it for the 4th time! It is guaranteed awesomeness:-) Register by November 2 to get the early bird discount.
Complete workshop schedule and registration.
October Uptown Swing Dance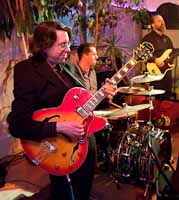 The next Uptown Swing dance is on Saturday, October 15 with Boston Swing Express, led by Mike DiBari. Influences range from "little big band" Swing a la the Benny Goodman Sextet to the hot Blues from the likes of Louis Jordan and Big Joe Turner as well as taking cues from Django Reinhardt with some Gypsy Jazz thrown into the mix. Sounds like an excellent night of dancing is in store!
Our awesome venue, Brookline Tai Chi, is conveniently located directly across from the Washington Square T stop on Beacon Street, has AC and one of Boston's best floors for dancing, plus free street parking after 8:00pm. Beginners are very welcome and there is a lesson included at the beginning of the evening to get everyone started. You do not need to have a partner to attend. The music will be excellent for Lindy Hop, Swing, Balboa and even some Blues. Bring your friends and introduce them to a fun night of dancing!
Complete Uptown Swing Dance information.
BSDN

Dance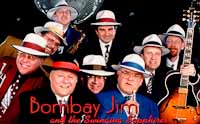 This Saturday, October 8 is the monthly Boston Swing Dance Network dance featuring Bombay Jim & the Swinging Sapphires. You don't want to miss coming out to Boston's longest and biggest Swing dance! All levels are very welcome.
So much to look forward to!
Happy dancing,
Aurelie & Tony