Hope everyone enjoyed the little burst of summer weather, but now it is back to reality as fall is upon us:-) On the plus side, it is an awesome time to get out dancing!
Uptown Swing Dance this Saturday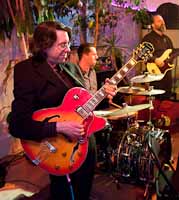 Come on out to Uptown Swing, this Saturday, October 15 with Boston Swing Express, led by Mike DiBari. Mike put together this band of locals for Beantown Camp and a very fun night was had by all! Influences range from little big band Swing a la the Benny Goodman Sextet to the hot Blues from the likes of Louis Jordan and Big Joe Turner as well as taking cues from Django Reinhardt with some Gypsy Jazz thrown into the mix. Sounds like an excellent night of dancing is in store!
The dance is held at Brookline Tai Chi, which is our wonderful venue conveniently located directly across from the Washington Square T stop on Beacon Street. There's AC, a fabulous floor for dancing, plus free street parking after 8:00pm. Beginners are very welcome and there is a lesson included at the beginning of the evening to get everyone started. You do not need to have a partner to attend. The music will be excellent for Lindy Hop, Swing, Balboa and even some Blues. Bring your friends and introduce them to a fun night of dancing!
Beginners welcome, no partner needed
Location: Brookline Tai Chi, 1615 Beacon Street, Brookline, MA 02446
Band: Boston Swing Express
Date: Saturday, October 15, 2011
Time: 8:15pm-12:00am
Swing Lesson: 8:15-9:00pm
Admission: $15 ($10 with Student ID)
Complete Uptown Swing Dance information.
New Classes, Last Session of 2011!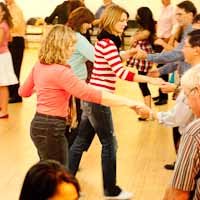 Check out our next session of classes starting on Sunday, October 23 in Newton Lower Falls and Monday, October 24 at Ruggles Church (near Fenway Park). There are classes for all levels, no partners required. Somehow we have already gotten to our last session for 2011!
Beginner Swing/Intro to Lindy Hop Level 1
Newton

&

Boston
Lindy Hop Level 2
Newton

&

Boston
Rhythm Variations
Newton
For Level 1 and 2 students, there are several different sessions at both of these levels and it is recommended that you stay with your level until you feel very comfortable with what is covered in those classes. Level 1 always starts with 6 count basics and new students can join in any session. The rest varies from session to session and there is always plenty to add to your repertoire while also working on dance skills and partner connection. For those new to social dancing, this is an excellent class to help gain confidence and get you out on the dance floor!
In Level 2, the most core 8 count basics are covered each session, but with a wider range of 6 and 8 count basics than in Level 1, others are spread throughout the various sessions. This class is always open to joining in any of the sessions for those already very comfortable with triple step Swing and at an intermediate dance level. You do not need to have prior Lindy Hop experience. Emphasis is on technique, lead-follow connection and style. Each session includes a variety of fun moves including some partner Charleston.
Please be sure to let us know if you do have any questions about which level is the best one for you.
The Rhythm Variations class will be aimed at intermediate and more advanced Lindy Hop dancers. In this class we'll be focusing on adding different rhythms to moves that you already know well. There will be variations for leaders and followers to incorporate into basics and some to lead socially. If you are interested in learning ways to spice up your footwork, dance more musically as well as improvising, this will be a good class for you!
Please submit an online registration if you are planning to attend. Thanks!
Complete class information and registration.
Skye
&

Naomi Lindy Hop Workshop Weekend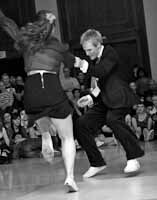 Registration just opened for the Skye Humphries and Naomi Uyama weekend of Lindy Hop workshops on December 2-4 and there are already dancers attending from 4 states! The classes will all be held at Lower Falls Community Center in Newton. The weekend will also include our monthly Uptown Swing Dance in Brookline featuring the Gordon Webster Band with Naomi on vocals plus a dance performance with Skye and Naomi. These two are among the most popular instructors currently on the worldwide Lindy Hop scene. This weekend with the combination of Skye, Naomi and Gordon has always been a highlight of the year, which is why we are doing it for the 4th time! It is guaranteed awesomeness:-) Register by November 2 to get the early bird discount.
Complete workshop schedule and registration.
Looking forward to seeing everyone out at Uptown Swing this Saturday!
Happy dancing,
Aurelie & Tony