What a fun night at the BSDN Pre-25th Anniversary dance this past Saturday in Watertown! It was so awesome to see such a huge crowd of dancers joining together to celebrate Swing dancing. Thank you Roger for bringing live music for all these years and for continuing to provide us this link to the early days of the Boston Swing community.
Saturday Uptown Swing Dance with Sax Gordon Band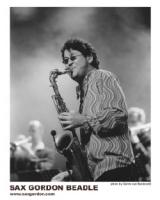 Come on out to
Uptown Swing
this
Saturday, November 19
with the
Sax Gordon Band
. Gordon is an amazing sax player who has played all over the world. He and his band receive rave reviews whenever we have been fortunate to get them on our dance schedule. If you have not had the opportunity to dance to Gordon and his band, be sure to check them out! There will be lots of smiles, good energy and fun dancing at Uptown Swing this Saturday!
Also included this month is a Lindy Hop performance with Hop to the Beat! We'll be Flying Home and would love for you to come and cheer us on:-)
The dance is held at Brookline Tai Chi, which is our wonderful venue conveniently located directly across from the Washington Square T stop on Beacon Street. There's AC, a fabulous floor for dancing, plus free street parking after 8:00pm. Beginners are very welcome and there is a lesson included at the beginning of the evening to get everyone started. You do not need to have a partner to attend. The music will be excellent for Lindy Hop, Swing, Balboa and even some Blues. Bring your friends and introduce them to a fun night of dancing!
Beginners welcome, no partner needed
Location: Brookline Tai Chi, 1615 Beacon Street, Brookline, MA 02446
Band: Sax Gordon Band
Date: Saturday, November 19, 2011
Time: 8:15pm-12:00am
Swing Lesson: 8:15-9:00pm
Dance Performance: Hop to the Beat
Admission: $15 ($10 with Student ID)
Uptown Swing Dance information.
Skye Humphries
&

Naomi Uyama Lindy Hop Weekend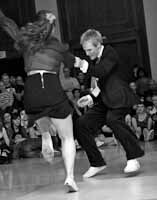 This is the last week to register at the discount prices for the Skye Humphries and Naomi Uyama workshops on December 2-4, expiring next Wednesday, November 23! It will be possible to register after that date as long as space is available.
Complete workshop schedule and registration.
The classes will all be held at Lower Falls Community Center in Newton. The most beginner classes are scheduled for Saturday afternoon. Prior Lindy Hop experience is needed for the Friday evening and Sunday afternoon classes (except for the Solo Jazz Routine which is open to all levels). There will be something for everyone and a variety of topics covered including fundamentals, partnering, footwork variations, solo Jazz, slow dancing and Charleston. For those really looking for a challenge, there is a partner routine class to end the afternoon on Sunday. Skye and Naomi are two of the must popular instructors on the scene today and we are very excited for this opportunity to have them teaching in our own backyard!
The weekend will also include our monthly Uptown Swing Dance in Brookline featuring the Gordon Webster Band with Naomi on vocals plus a dance performance with Skye and Naomi. This weekend with the combination of Skye, Naomi and Gordon has always been a highlight of the year, which is why we are doing it for the 4th time! It is guaranteed awesomeness:-) Register today to get the discount price!
New Lindy Hop Swing Class Session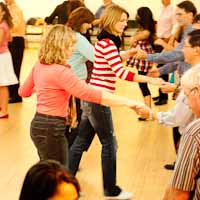 Plans are already set for our next 6 week session of classes! We'll be continuing in both our Newton and Boston locations starting in January.
New classes in Beginner Swing/Intro to Lindy Hop Level 1 and Lindy Hop Level 2 are scheduled in Newton Lower Falls on Sunday evenings starting January 8 and in Boston on Monday evenings starting January 9. Both locations are conveniently accessible by car or T with free parking available.
It will be possible to make up missed classes at the alternate location and it has been great to see students taking advantage of that.
Also coming up, we have a new class for intermediate to advanced Lindy Hoppers: Partner Charleston, Flashy Variations and Transitions. It will include some cool variations on classic Charleston while also focusing on some fancy transitions. This class will be challenging, energetic and of course a ton of fun! This class will meet on Sundays in Newton.
Complete class information and registration.
Looking forward to seeing everyone at Uptown Swing this Saturday!
Happy dancing,
Aurelie & Tony