What a fun night we had at Uptown Swing on Saturday! As promised, there were lots of smiles, great energy, and a very hot Sax Gordon Band:-) Thank you so much to everyone who joined us. Also, a special thank you to our Hop to the Beat crew who performed with us.
Our next dance is coming up next weekend (not the usual 3rd Saturday) and features the "other" awesome Gordon!
Last Chance for Discount Prices: Skye Humphries
&

Naomi Uyama Lindy Hop Weekend + Uptown Swing Dance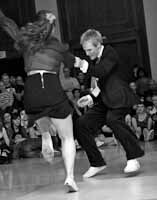 Last chance for discount prices for the Skye Humphries and Naomi Uyama workshops on December 2-4, expiring this Wednesday, November 23! You do not need to do the full weekend as workshops are a la carte. A completed registration with payment must be received by the discount due date. Sending a check postmarked by November 23 will also qualify. It will be possible to register after that date and at the door as long as space is available. The classes will all be held at Lower Falls Community Center in Newton, MA. Classes currently have a good lead-follow balance.
Complete workshop details and registration.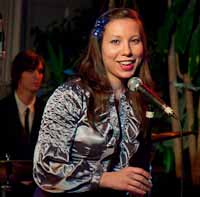 On Saturday night, December 3, is our monthly Uptown Swing Dance in Brookline featuring the always incredible Gordon Webster and the amazingly talented Naomi Uyama on vocals. They are hot off of recording a new live CD just this past weekend in Rochester. Included during the evening will be a demo with Skye and Naomi that you won't want to miss. Special for this month, Uptown Swing has been extended to run until 12:30am.
Uptown Swing Dance information.
This very special weekend is almost here! Skye, Naomi and Gordon - a can't miss combination. Add to that dancers coming from 8 states and Canada plus a variety of classes to choose from with great stuff for all levels. We are looking forward to welcoming our out-of-town visitors and to a fun and inspirational weekend!
Don't miss out - register today!
January Lindy Hop Swing Class Session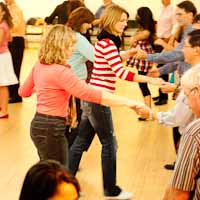 Plans are set for our first 6 week session of classes in Newton and Boston for 2012!
New classes in Beginner Swing/Intro to Lindy Hop Level 1 and Lindy Hop Level 2 are scheduled in Newton Lower Falls starting Sunday evenings on January 8 and in Boston, Monday evenings on January 9. Both locations are conveniently accessible by car or T with free parking available. It will be possible to make up missed classes at the alternate location and it has been great to see students taking advantage of that.
Also coming up, we have a new class for intermediate to advanced Lindy Hoppers: Partner Charleston, Flashy Variations and Transitions. It will include some cool variations on classic Charleston while also focusing on some fancy transitions. This class will be challenging, energetic and of course a ton of fun! It meets on Sundays in Newton.
Registration is open - Complete class information and registration.
Best wishes for a very Happy Thanksgiving! Hope you are able to enjoy the time with family and friends.
Happy dancing,
Aurelie & Tony