The Skye and Naomi weekend is almost here! There is a full schedule of activities to keep everyone dancing from Friday evening through Sunday. Great music, great classes and plenty of great local and visiting dancers!
Uptown Swing Dance on Saturday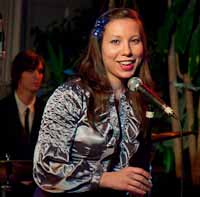 Join us this Saturday, December 3 for our monthly Uptown Swing Dance. This month we are thrilled to have back the very fabulous Gordon Webster Band with the beautiful vocals of Naomi Uyama! Also featured during the evening will be a demo with Skye and Naomi that you won't want to miss. Extra for this month, the dance has been extended to run until 12:30am. This is our last Uptown Swing dance of 2011 and we know we'll be ending on a high note!
The atmosphere is fun and friendly and beginners are very welcome. You do not need to come with a partner. Brookline Tai Chi is a great space with a smooth wood floor and a convenient location on Beacon Street in Brookline. For those taking the T, it is directly across from the Washington Square stop on the Green Line. If you want to come early for dinner or a drink, there are plenty of places nearby. Street parking is free after 8:00pm.
Beginners welcome, no partner needed
Location: Brookline Tai Chi, 1615 Beacon Street, Brookline, MA 02446
Band: Gordon Webster Band with Naomi Uyama
Date: Saturday, December 3, 2011
Time: 8:15pm-12:30am
Swing Lesson: 8:15-9:00pm
Dance Exhibition: Skye Humphries & Naomi Uyama
Admission: $15 ($10 with Student ID)
Uptown Swing Dance information.
Skye Humphries
&

Naomi Uyama Workshop Weekend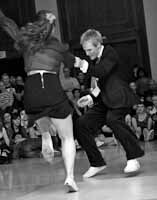 The wait is over. Be prepared for a phenomenal weekend of workshops with Skye and Naomi! Classes are scheduled for this Friday, Saturday and Sunday, December 2-4. Join fellow dancers from 9 states and Canada. There are classes for all levels including beginners.
Workshop Location: Lower Falls Community Center, 545 Grove Street, Newton Lower Falls, MA 02462
Friday, December 2
A. 7:30-8:30pm Lindy Hop with Skye & Naomi
B. 8:45-9:45pm Slower Routine
Saturday, December 3
C. 12:15-1:15pm Lindy Hop Fundamentals
D. 1:25-2:25pm Building on Your Basics
E. 2:35-3:35pm Charleston Foundation
Sunday, December 4
F. 1:30-2:30pm Solo Jazz Routine
G. 2:45-3:45pm Fun with Footwork
H. 4:00-5:00pm Dancing Together
I. 5:15-6:15pm Lindy Hop Partner Routine (partner needed)
It will be possible to register at the workshops as space permits. There is currently space in all of the classes and they are all reasonably balanced:-)
Workshop Location:
Lower Falls Community Center
545 Grove Street
Newton Lower Falls, MA 02462
Parking Information:
In Newton Lower Falls, please park in the inside parking lot only (near the entrance to the Lower Falls Community Center). The front and back parking lots belong to the Senior Center. There is plenty of on-street parking.
You can still pre-register to ensure your spot.
Complete workshop details and registration.
Crosby Whistle Stop on Friday
After Friday workshops, head on over to the Crosby Whistle Stop for the weekly dance. BSC is hosting Bria Skonberg's Hot Five from NYC!
Boston Swing Central information.
January Lindy Hop Swing Class Session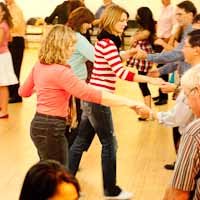 Plans are set for our first 6 week session of classes in Newton and Boston for 2012!
New classes in Beginner Swing/Intro to Lindy Hop Level 1 and Lindy Hop Level 2 are scheduled in Newton Lower Falls starting Sunday evenings on January 8 and in Boston, Monday evenings on January 9. Both locations are conveniently accessible by car or T with free parking available. It will be possible to make up missed classes at the alternate location and it has been great to see students taking advantage of that.
Also coming up, we have a new class for intermediate to advanced Lindy Hoppers: Partner Charleston, Flashy Variations and Transitions. It will include some cool variations on classic Charleston while also focusing on some fancy transitions. This class will be challenging, energetic and of course a ton of fun! It meets on Sundays in Newton.
Registration is open - Complete class information and registration.
Looking forward to seeing everyone this weekend and welcoming our out of town guests!
Happy dancing,
Aurelie & Tony